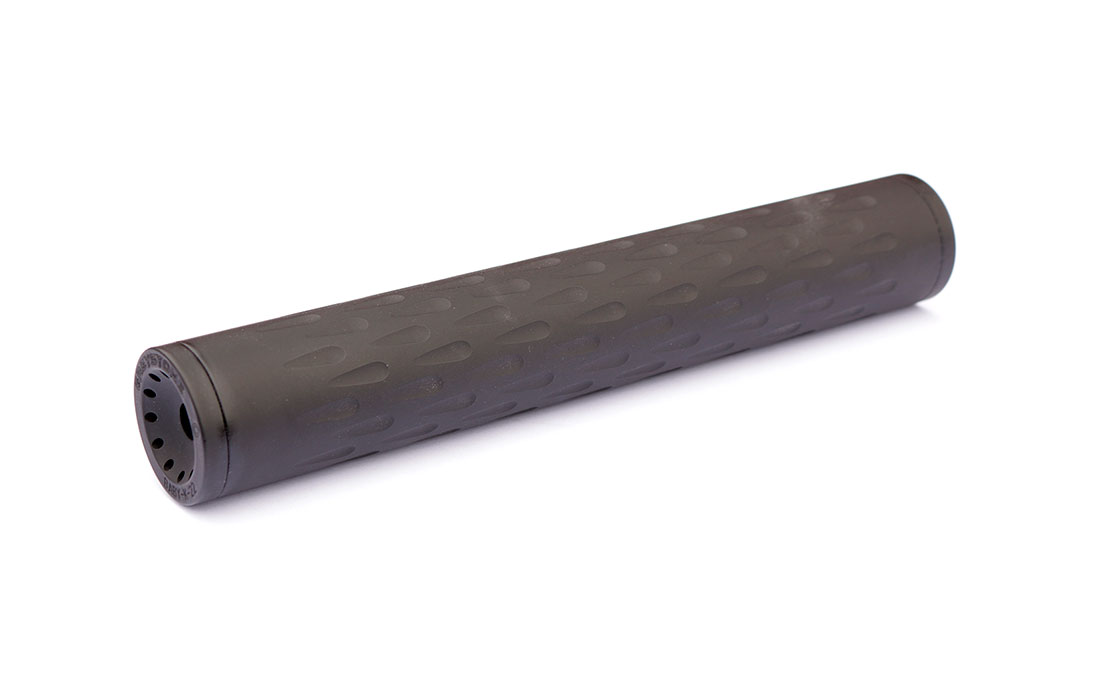 Baby-K 22 Rimfire Silencer
The Baby-K-22 silencer is designed for .22LR and .22Mag.
Subsonic ammo will give the greatest sound reduction.
Hearing safe levels (less than 141 DB) are achieved with both .22LR and .22Mag high velocity ammo with the Baby-K-22 silencer
PLEASE NOTE: This product requires police mail order form FRM43A if you require us to send it to you. You can download the form here.
PLEASE NOTE: These silencers have a rear bush made of Acetal engineering plastic that is required to be bored out to suit your barrel diameter. If you are unable to do this yourself or get it done locally then we can do this for you at no extra charge. Please measure the diameter of you barrel at 200mm rearwards from the crown in mm down to 1/10 of a mm and enter it as additional information along with the calibre.
PLEASE NOTE: Choose the thread option below to suit your application or if you require a custom thread type or are unsure, please contact us to discuss your requirements before purchasing.
Contact Us
Due to export restrictions and laws we will only ship silencers to a New Zealand address.
Description
Baby-K 22 Rimfire Silencer
Greystone Guns is proud to announce their latest range of over barrel silencers made for rimfire rifles.These have been specifically made with two different internal sizes to give maximum noise reduction for both the .17 & .22 rimfire calibre.
The Baby-K-22 silencer is suitable for all .22 rimfire cartridges.
The Baby-K rimfire over barrel silencer uses all the same design features as the Greystone Guns centrefire K-baffle silencer but they have all been scaled down to better suit the smaller sized rimfire rifles.
You must not fire any .22 bullets through a Baby-K-17 silencer as the internal hole size is too small to allow this and it will cause irreparable damage to the silencer.
You can fire any .17 calibre rimfire bullets through the Baby-K-22 silencer without causing any damage. But to get the best noise reduction use the Baby-K-17 silencer for all .17 rimfire cartridges.
The Baby-K silencers incorporate an internal muzzle brake which has anti-rotation faces machined into it to stop the silencer from undoing during firing.
Thread sizes available ½ UNF 20 TPI & ½ UNEF 28 TPI
The isolator tube can accommodate barrels up to 22mm diameter at 100mm rearwards from the crown.
The isolator tube provides protection of the barrel from corrosion caused from firing residue inside the silencer.
There is a removeable Acetal plastic bush in the rear of the silencer which needs boring to be 0.3mm – 0.5mm over the barrel diameter at 100mm rearwards from the crown.
The rear bush gives the silencer its strength if dropped or knocked and prevents the silencer from being knocked out of alignment.
There are three K-baffles forward of the muzzle brake which provide very efficient suppression in a very short area which keeps the length of the silencer down to only 100mm forward of the muzzle.
There are two different internal holes through the muzzle brake and the K-baffles to perfectly suit either the .17 or .22 calibres.
Silencer outside diameter is 32mm.
Silencer overall length is 200mm.
Silencer protrudes rearwards over barrel 100mm.
Silencer protrudes forward of the muzzle 100mm.